A Must-Have Accessory
The beginning of fall means it's time to put those socks back on your feet. Besides keeping your feet warm, socks are powerful accessories that can take your outfit to the next level.
One big style trend I picked up and truly love in Japan is socks, which are an integral part of Japanese fashion. The socks you find in Japan are nothing like the ones elsewhere. Taking the United States as an example, the socks available are usually dress or sports socks, and neither feature any elaborate designs. Stockings here are usually of solid colors or simple patterns like stripes and polka dots. On top of that, just like the names of the common sock genres suggest, socks are usually worn only with sneakers and dress shoes.
Examples of how I paired socks with different outfits. Sock brands from left to right:P.O.A.C., LIZ LISA, and tutuanna. Find out more about each outfit on my Style Diary page.
A Brief History of Socks
In Japan, socks are paired with all kinds of shoes. Sandals, high heels, loafers, you name it. The Japanese pack a lot into that limited space on a sock: frills, lace, rose appliques, ribbons, jewels, etc. These socks come in all kinds of colors, and you're sure to find some in the hottest colors of a season. Their wide variety means there's something for everybody, whether you're into lolita, gyaru, edgy, or ladylike fashion. Socks are another accessory you add to enrich your personal style.
Socks became ubiquitous in Japanese fashion probably because of its central role in the country's culture. In places where the floors are covered with tatami, a type of mat made with rice straws that is used as flooring in traditional Japanese-style rooms (washitsu), you're required to take off your shoes. Tatami is not as popular as it once was, but you can still find it in some old restaurants and houses. While this norm is no longer strictly observed, it's considered rude and unhygienic by some to walk on tatami floors barefoot. Regardless, the practice of wearing socks stuck.
Limitless Choices
The supply has certainly risen to meet the demand. There are stores like tutuanna and Kutsushitaya that specialize in socks. If you are a beginner in socks or want to experiment with new colors, tutuanna is a good place to start because they make affordable socks in both everyday and trendy colors. You will find the normal white, black, and navy, but also the more eccentric moss green, mustard, and shocking pink. Also, the designs of tutuanna's socks are simpler and feature only one or two details, so they're very easy to pair with outfits.
All socks are tutuanna, and are available on Amazon.jp.
As the weather gets cooler, tutuanna releases socks made of cotton mixed with wool or angora. I find that these socks really keep you warm, they are fairly durable (my socks got a hole after about a year). At three pairs of socks for ¥1,000 (about $10), tutuanna is the place for all your basic socks needs.
Brands like LIZ LISA, Ank Rouge, and MILK also sell socks, and these socks usually complement the clothes in their collections, saving you the trouble of having to search for socks that match your outfit. They also tend to be a bit more expensive given the additional design elements these brands add to their legwear. If you are a loyal customer of one brand or own many clothes and shoes from one brand, getting socks from that brand will work well for you, especially if that brand has a distinct style like LIZ LISA.
All socks are LIZ LISA, and are available on the brand's official online store.
Even though LIZ LISA introduces socks with new patterns every season, it's quite easy to mix and match them with dresses and skirts from other seasons still because the brand has a consistent overall style and usually features the same colors, namely pink and white/ivory. Also, LIZ LISA uses high-quality materials in their socks, which last up to more than a year, so I definitely recommend this brand!
Lengths Matter
If you're used to wearing socks with only pants, trying to pair them with skirts and dresses could be confusing. My rule of thumb is that the length of your socks should be inversely related to the length of your dress or skirt. That means the shorter your dress or skirt is, the longer your socks should be, and vice versa. Three lengths are commonly worn with dresses and skirts—knee-high, crew socks (halfway between knee and the bottom of your foot), and mini-crew socks (ankle). It's a delicate balance to strike, so you always want to stock your wardrobe with socks of different lengths.
Check out a few kawaii picks that you can add to your wardrobe this fall. (Hint: Socks are an easy way to immediately make your outfits on trend.)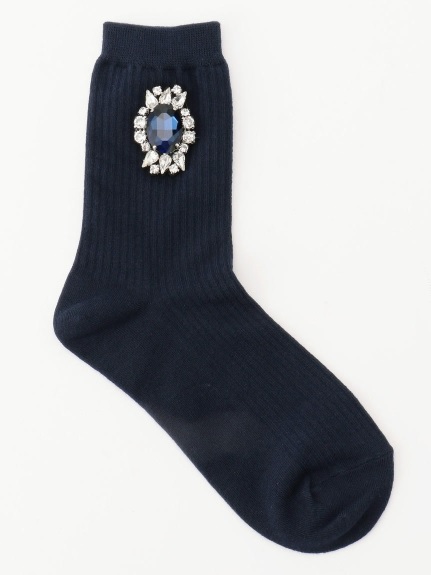 Share with me in the comments or on social media about which sock style you tried out!